sketching & painting with Jane LaFazio in Utah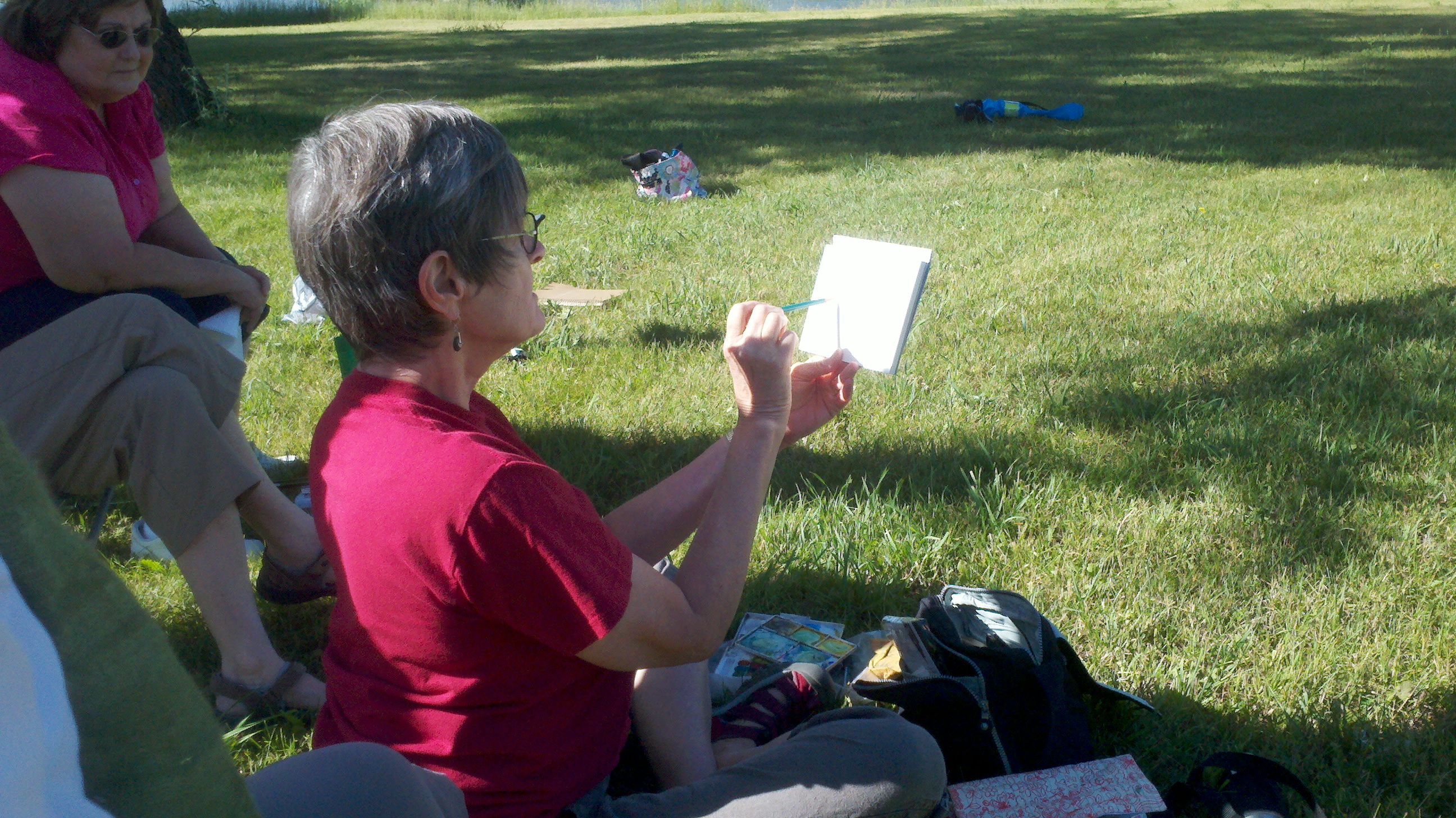 I don't consider myself an artist. I honestly don't think I can draw. I didn't study it in college. I'm not particularly crafty. So it was a bit of a stretch to sign up for mixed media artist 
Jane LaFazio's Sketching & Watercolor: Journal Style
retreat.
I was pulled by the idea of retreating in Utah, since I'd only visited national parks in other parts of the state. I wanted to study with Jane. I've been following her for awhile, first through her colorful blog, then on Facebook. Love the vibe on her blog and travel sketches and knew she leads trips to Mexico, France and Italy. This seemed like a great opportunity to get to know her teaching style.
personal challenge: the 8-pan palette
Right off the bat, I liked that Jane created a short supply list at Dick Blick. I took her suggestion and bought a simple 8-pan palette by Prang to challenge the idea that I need a expensive watercolor set.
Jane is a light-hearted, encouraging teacher who gave each of us room to create and plenty of personal attention. Each session focused on a theme: fake birds (to start), followed by a still life, wildflowers, landscape done on location. Jane gives clear, easy-to-follow demonstrations, clearly explaining her thought process.
She works first with pencil, then pen, carefully tracing her lines. After erasing the pencil marks, she takes the brush and paints, adding finishing touches, like borders and captions, in pen.
Because we were working with Fabriano 5″ x 7″ hot press watercolor blocks, the small format made each project less intimidating…somewhat.
I should note that I'm a watercolor beginner. I'd played with watercolor, but not worked with it, and certainly not to achieve a recognizable end product. I've mostly dabbled in creative process.
I'd never varied colors to achieve any semblance of realism. I'm not kidding. Jane had to instruct me to use blue + brown to get grey.
I had to write it down.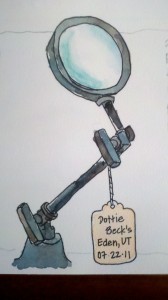 I appreciated Jane giving me specific suggestions as to how to achieve a particular goal, like depth or shadow for a rounded object. With my landscape, she suggested I "take a Q-Tip and pick up some of that color, then add more grey." It worked.
The dry climate also contributed to all of us working quickly. It helped push any critical thoughts aside because I was so focused on mixing the next color before the paint dried. ("Keeping a wet edge" is important if you're blending color.)
I surprised myself. I can draw! I loved the nuanced colors I created from that simple palette, too.
care & comfort at high altitude
Accommodations, all meals and transportation to and from the Salt Lake City airport were provided by Dianne of Creative Inspiration Mountain Retreats. Diane's nurturing friend Peggy cooked a wide variety of healthy salads and meals, accommodating special diets. She was kind enough to send recipes!
Our retreat included a gondola ride to the top of Snowbasin Resort, the site of the 2002 Olympic Men's Downhill event for a buffet dinner at the Needles Lodge (8,710 feet), where the winter snow had yet to melt.
Dianne arranged for each of us to have an in-room massage from
Free Spirit Mountain Spa
in nearby Eden. For a very reasonable additional price, you could extend your massage by 30 minutes. I opted for the extension and it was a fabulous massage. Michelle had a wonderful touch–I fell asleep, though I suppose that isn't a heroic feat.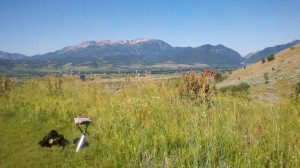 on connecting & rediscovering a lost love
I always underestimate the social aspect of a retreat. I go to retreats to learn, rest and play. In spite of my introverted, monk-like self, I end up connecting. Susan blogged each night and practiced songs she composed on the baby grand piano in the living room. Walked among the thistle, dandelion and sage with Nancy and Carolyn. Admired creative blogs from Melissa and Sharon. Laughed with Jane and Cecilia.
One thing that most people don't know about me is that I took piano lessons for a couple of years before high school. As with most things, I don't play for anyone but myself, let alone in front of others.
Hearing Susan play inspired me to ask how I might start "doodling" at the piano. Susan is taking lessons in composition, and it turns out that retreat organizer Dianne teaches adult beginners.
My huge bonus was getting impromptu improvisational lessons from both Dianne and Susan! Dianne made it so comfortable for me, that I actually played in public–OK, well, maybe only five people were left–and I played very imperfectly. I couldn't remember more than eight measures of a few songs. I had performance anxiety, but didn't die of embarrassment.
Since returning home I've dusted off the sheet music and old songbooks. I'm playing with curiosity and a lot of self-compassion, having fun at the piano again.
What an unexpected gift! Thank you to Jane, Dianne, Susan, Peggy and all the wonderfully creative women in Utah!